How we deliver research
Cancer Research UK is the largest independent funder of cancer research in Europe and the world's leading charity dedicated to cancer research.
Today we invest more than £400 million annually into cancer research through funding schemes, conferences, initiatives, resources, and a UK-wide network of research infrastructure across basic, translational, clinical and population research, contributing to the oustanding environment that the UK provides for cancer research.
We also recognise that cancer is a global problem, and research is a global endeavour, which is why we work with both commercial and non-commercial research partners across the world to achieve our ambitious vision of bringing forward the day when all cancers are cured.
£413 m
spent on research 2017/18
90
institutions around the UK
4,000
scientists and clinicians in our network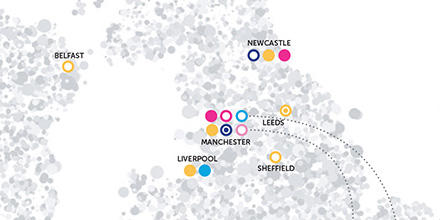 We recognise the crucial role that infrastructure plays in creating a dynamic and responsive research environment. Our state-of-the-art facilities provide capabilities across the full breadth of cancer research and the translational pipeline, and support close partnerships with universities and the NHS.
Our infrastructure includes four research institutes which provide an exceptional environment for discovery science; a network of 14 translational centres; world-leading academic drug discovery and clinical trials units; and our unique Centre for Drug Development.